About the Client
Morris 4×4 Center is an international supplier of aftermarket Jeep and 4×4 parts. For over 25 years, Morris has delivered innovative parts and accessories to 4×4 enthusiasts around the globe, while providing personalized recommendations and assistance to customers from their in-house Jeep experts.
Overview
Morris 4×4 Center came to Forix in early 2019, seeking a domestic point of contact to manage their Magento website. Morris knew that they needed an experienced Magento partner to implement some big initiatives and make ongoing improvements to their complex eCommerce platform. They chose Forix as their trusted partner based on the referrals of their industry partners.
The Challenge
As an ecommerce retailer with a sizable inventory and international presence, Morris 4×4 Center was facing several challenges with their Magento site. Their growth targets were aggressive, and they needed a team that could scale quickly. With slow pagespeed times across their website, an overwhelmingly large product catalog, and customer confusion over international shipping costs and details, Morris needed fast, efficient solutions. The team of Magento experts at Forix got to work attacking the issues, using innovative software implementations and thoughtful UX improvements.
The Solution
To take on these challenges, Forix first implemented Cloudflare to improve overall pagespeed for the website. Then, we made updates to Morris 4×4's merchandising and catalog aspects by implementing a new PIM system, and simplified their international shipping with an integration from FedEx.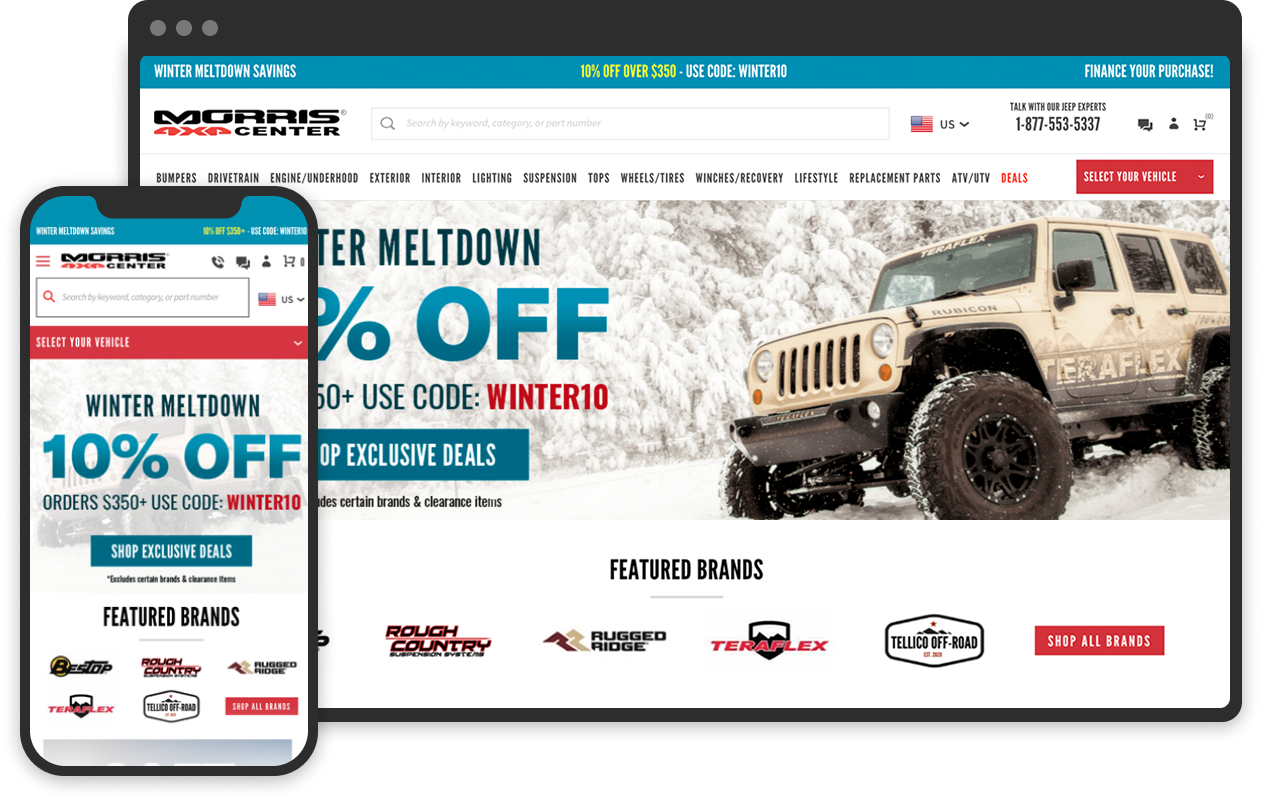 Research, UX/UI, and Design
Customer Experience Strategy
Content Strategy
A/B Testing
Mobile Strategy
User Testing
Data Analysis
Search Optimization
Information Architecture
Merchandising
Morris 4×4 was experiencing slow load times on their product and landing pages. To tackle this problem, Forix performed a standard Cloudflare implementation in June of 2019 in order to increase security and performance on site. Cloudflare is an online network of servers that was designed to improve speed, performance, and security for websites in order to provide fast and consistent access to users. This implementation resulted in a decrease of average page loading time from 8.5 seconds to only 5 seconds. Faster load times contribute to greater click through rates, decreased bounce rates, and an increase in conversions of almost 7%.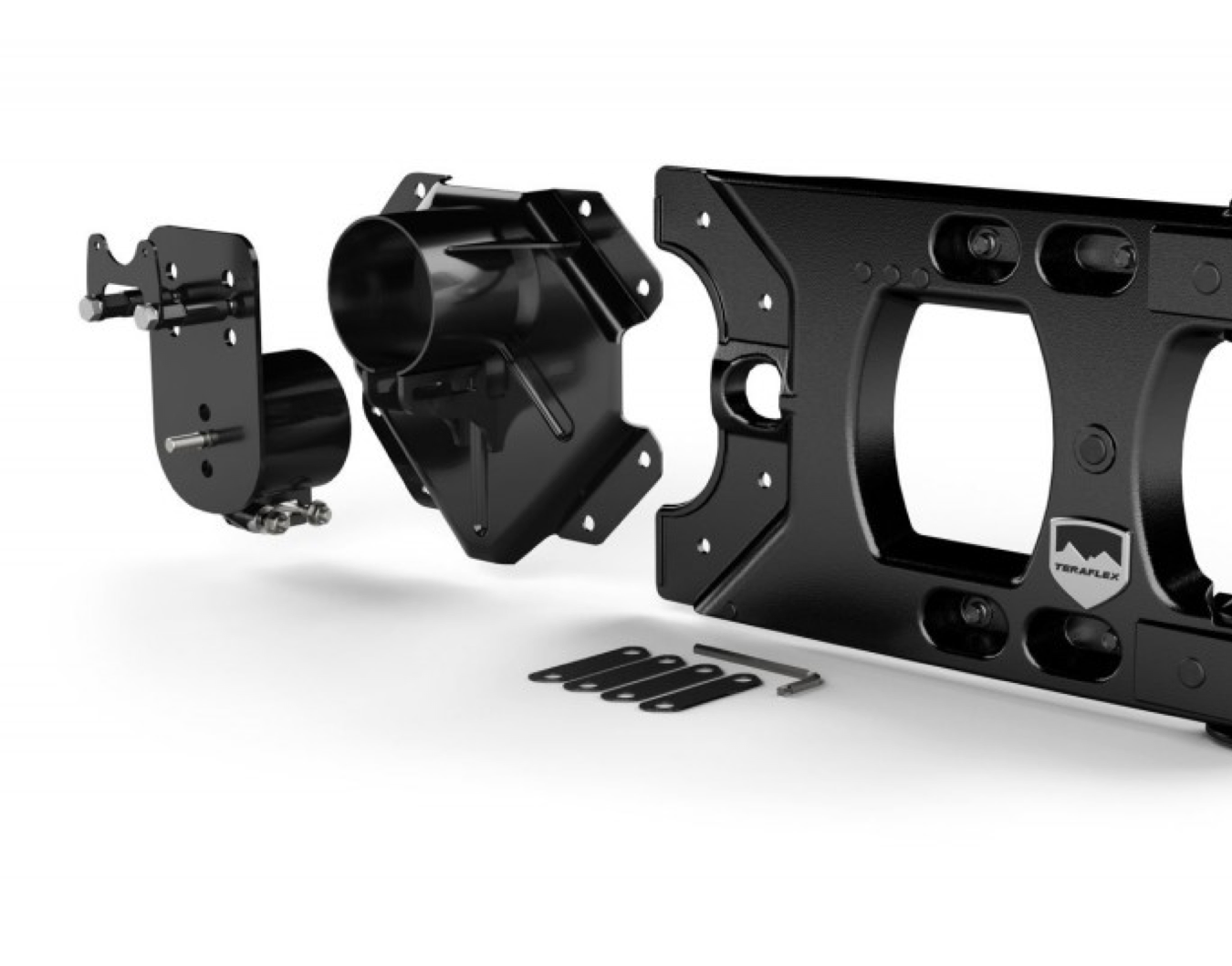 Analytics & Optimization
Performance Audit
Advanced eCommerce Tracking
Actionable Growth Strategy
Custom Reporting
Conversion Rate Optimization
SEO & Search Optimization
Morris 4×4 carries more than 40,000 products in their Magento store. To ensure that customers always get the right part for their vehicle, Forix implemented a PIM (Product Information Management) system into their Magento site in May of 2019. This allowed Morris to create a comprehensive catalog that accurately categorized each part they carry. Additionally, Forix integrated a pop up message for "Wrong Vehicle Fitment", alerting customers when a product they have selected is not compatible with their specified vehicle and reducing return rates. These upgrades improved operational efficiency across the site, and provided an enhanced customer experience for online shoppers.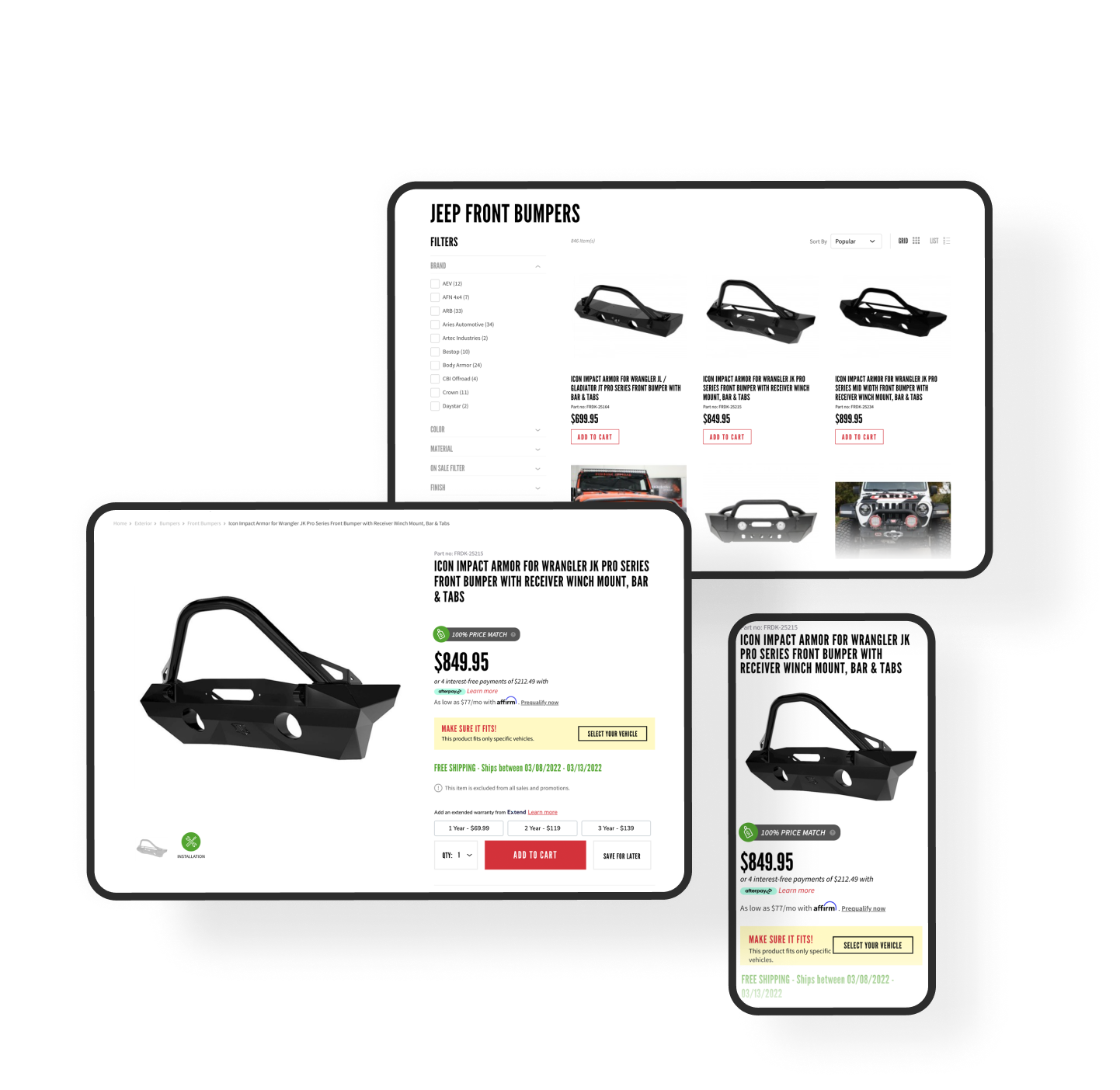 Support & Development
Custom Module Development
Compliance Implementation (PCI, GDPR, &ADA)
Security & Patch Updates
Campaign Support
Speed & Performance Improvements
Testing Plans
24/7 Emergency Support
To serve Jeep and 4×4 customers around the world, Morris 4×4 provides international shipping on all of its parts and accessories. International shipping cost and details were often difficult for customers to configure on their own. To simplify and clarify international shipping options during checkout, Forix worked directly with the FedEx technical team to integrate their international shipping pop-up into the existing Magento checkout flow. The Cross Border International Shipping integration automatically configures the taxes, fees, and shipping costs for international customers, making it easy for them to pay the right amount at checkout. This led to a total increase in international sales; the UK accounted for growth rate increases by as much as 94%.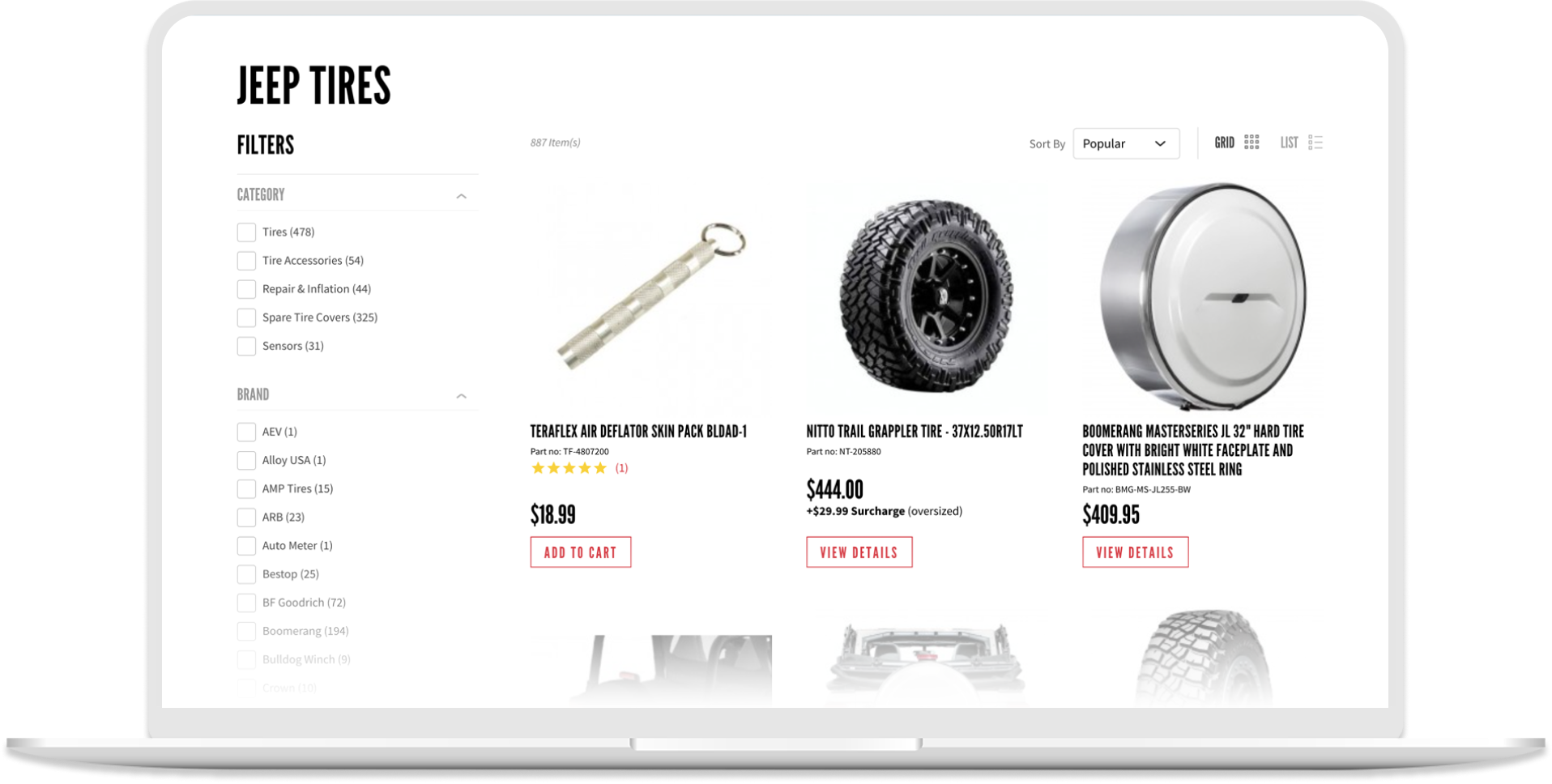 Over the past year, Forix has spearheaded several major initiatives for Morris 4×4 Center. Improvements to their site's operational efficiency, merchandising upgrades, and overall page loading speed has led to a better shopping experience for their customers. With an improved website design and ongoing managed services from Forix, Morris is able to better serve their customers around the globe.