Overview
Columbia River Knife and Tool company, also known as CRKT, is one of the leading manufacturers of knives and multitools in the United States. CRKT joined forces with Forix in 2016 in order to create a better shopping experience for their online customers. They wanted an opportunity to showcase their innovative knife designers on their website, while delivering a streamlined online shopping experience for their customers. CRKT chose Forix to as their Magento partner to help them bring this new experience to life.
The Challenge
While CRKT had been operating their website online for some time, they knew that they were missing out on important opportunities for growth. They wanted to bring their own knife and tool makers to the forefront, to showcase their unique and innovative designs that set them apart from the competition. They also wanted to make the leap to actionable eCommerce rather than a brand-only experience. Slow page loading times were affecting their on site traffic, and their email campaigns were not delivering the results that they wanted. To tackle these complex issues, Forix decided to prioritize our optimization projects by their potential to increase conversion rates.
The Solution
To help CRKT reach their conversion goals, Forix began by optimizing their server for improved page loading times. Then, we took on the heavy lifting of redesigning CRKT's transactional emails to increase conversions, and integrated the PIM Salsify into their Magento site to more effectively manage and present their unique products to customers online.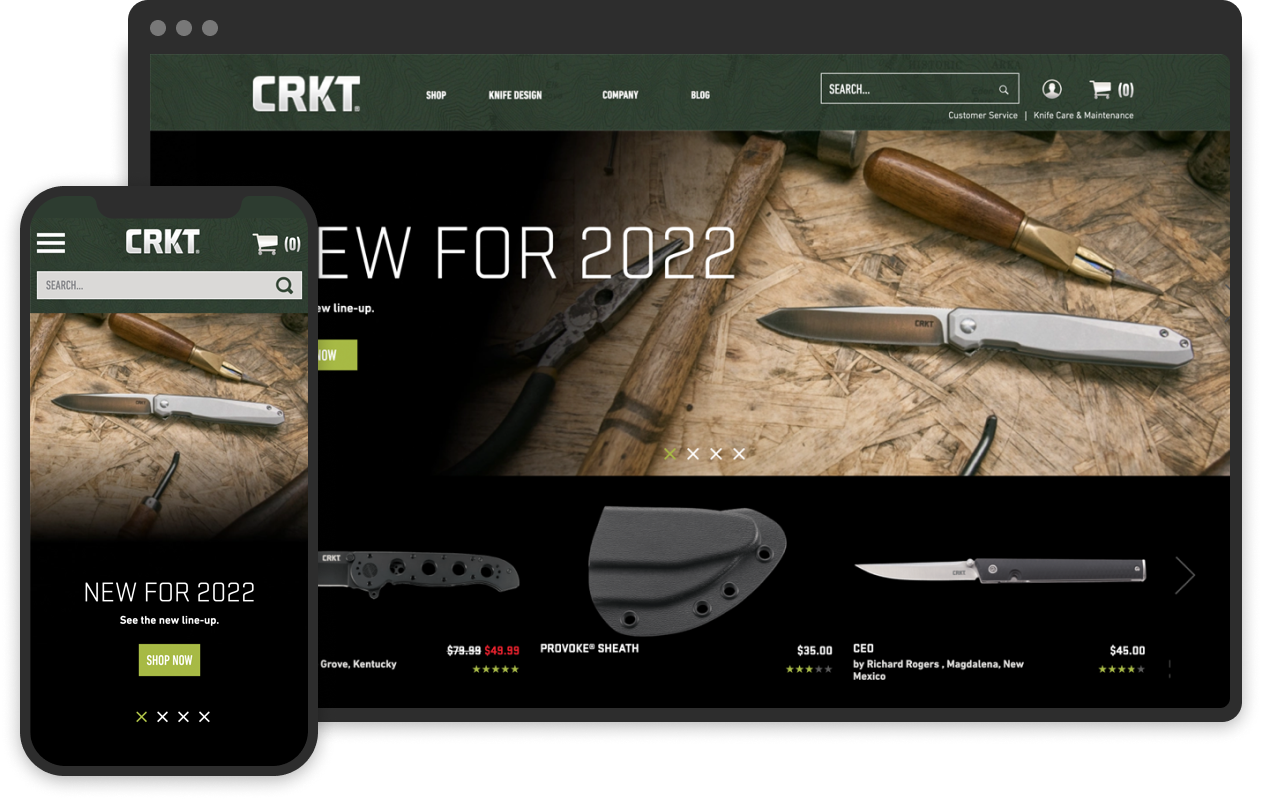 Research, UX/UI, and Design
Customer Experience Strategy
Content Strategy
A/B Testing
Mobile Strategy
User Testing
Data Analysis
Search Optimization
Information Architecture
Merchandising
In January 2019, Forix completed our update of CRKT's server configuration. By providing important updates to their server, we were able to reduce their server response time by 60%, leading to faster page load times. Individual page loading time was decreased by an average of 10.5%, while page redirection time decreased by a total of 37%. Faster page load times led to an increase in overall conversions and a decrease in bounce rates across their Magento site.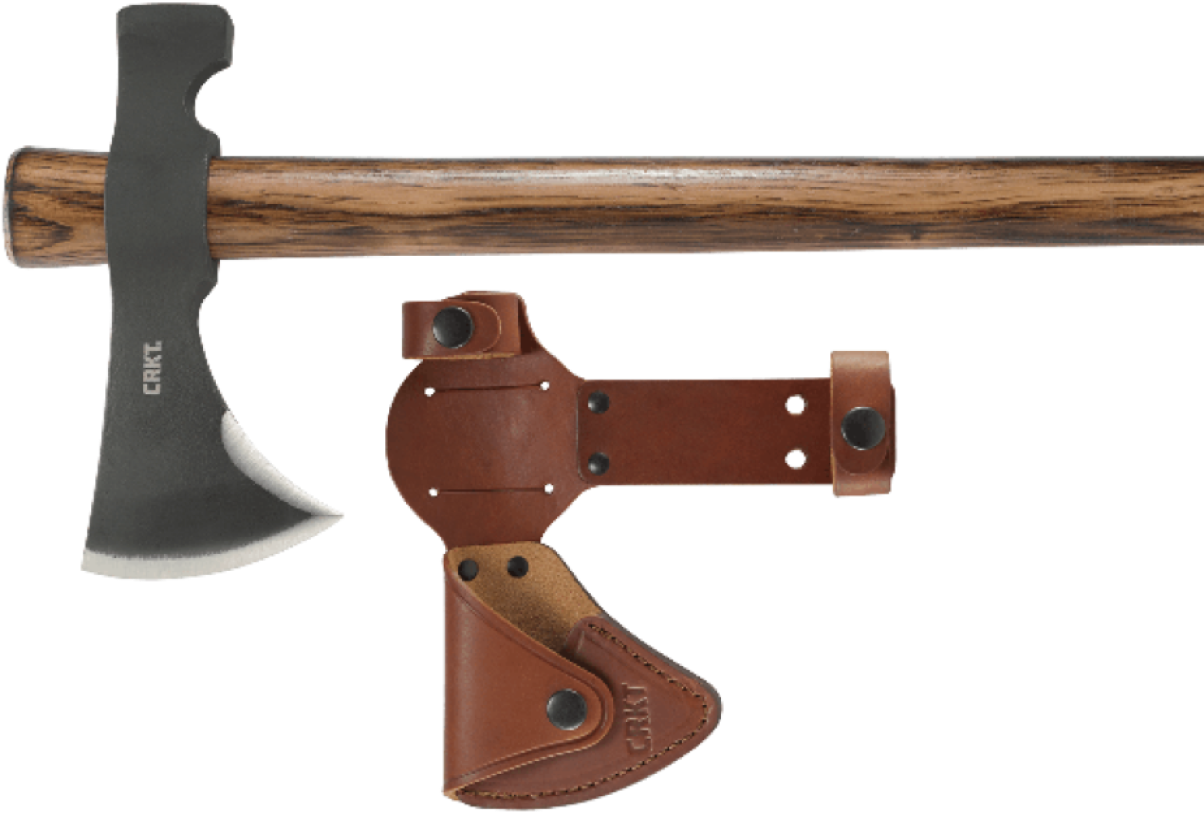 Analytics & Optimization
Performance Audit
Advanced eCommerce Tracking
Actionable Growth Strategy
Custom Reporting
Conversion Rate Optimization
SEO & Search Optimization
CRKT were concerned that their email campaigns were underperforming in terms of conversion. In July of 2019, Forix began redesigning transactional emails sent by CRKT, including welcome emails, new order confirmation, contact submissions, and shipping confirmations. Additionally, we implemented an Abandoned Cart email, sent to remind customers about items still in their cart after they leave the site. The abandoned cart email led to an increase in cart recovery conversions of 60.5% by prompting recipients to return to the checkout page and complete their orders.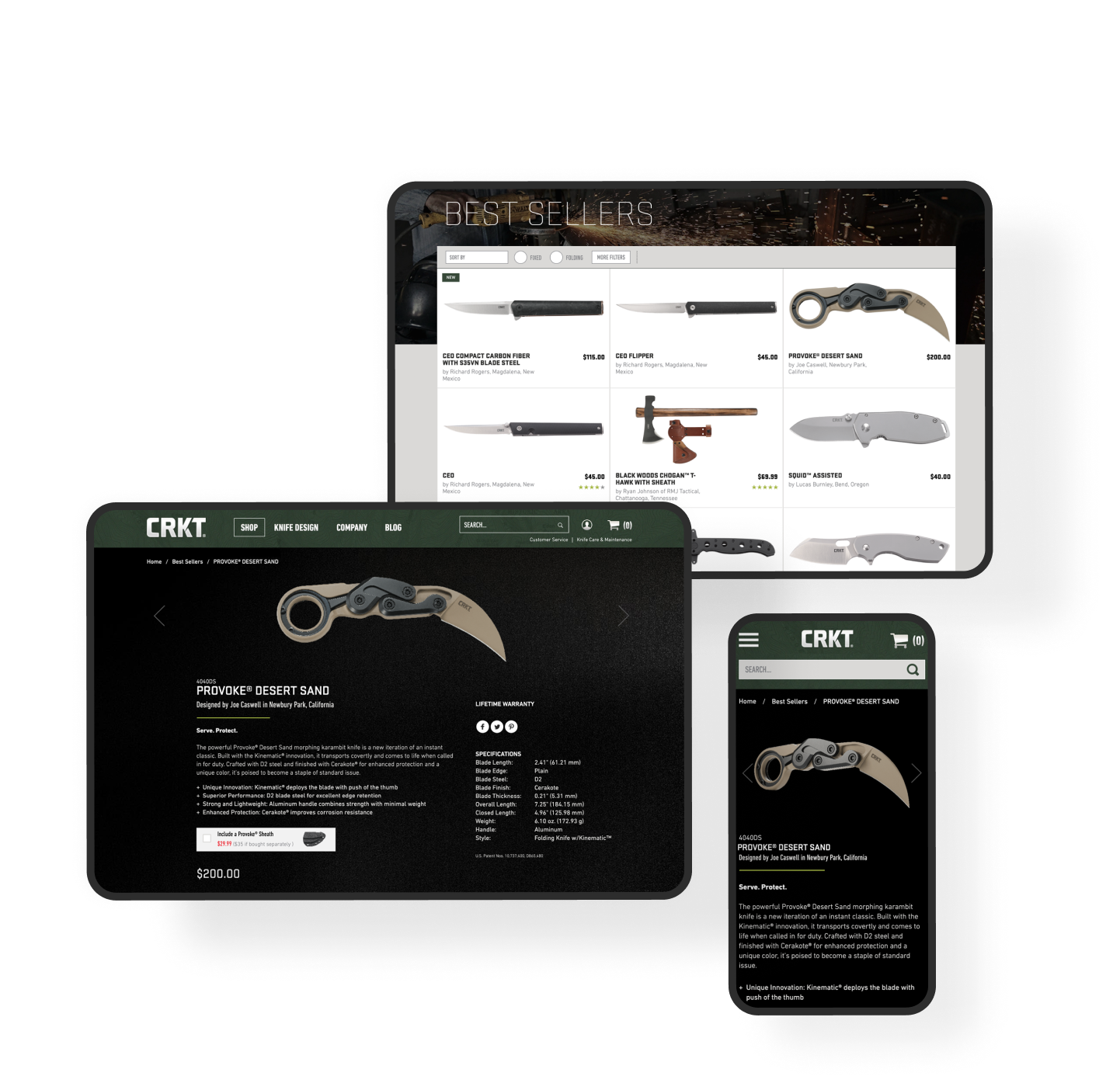 Support & Development
Custom Module Development
Compliance Implementation (PCI, GDPR, &ADA)
Security & Patch Updates
Campaign Support
Speed & Performance Improvements
Testing Plans
24/7 Emergency Support
Salsify is an Product Information Management (PIM) software which enables online retailers to manage and present their products and product information in compelling ways to customers. Enhanced product pages created with Salsify combine different media elements, including graphics, video, and other rich content elements to increase conversion rates. To help CRKT highlight their knife makers and designers, Forix integrated Salsify into their Magento eCommerce website. This integration allowed CRKT to suggest related products on their product detail pages and offer bundles of similar products to customers via auto bundles, which led to an increase in Add to Cart for additional items as well as an increase in Average Order Value.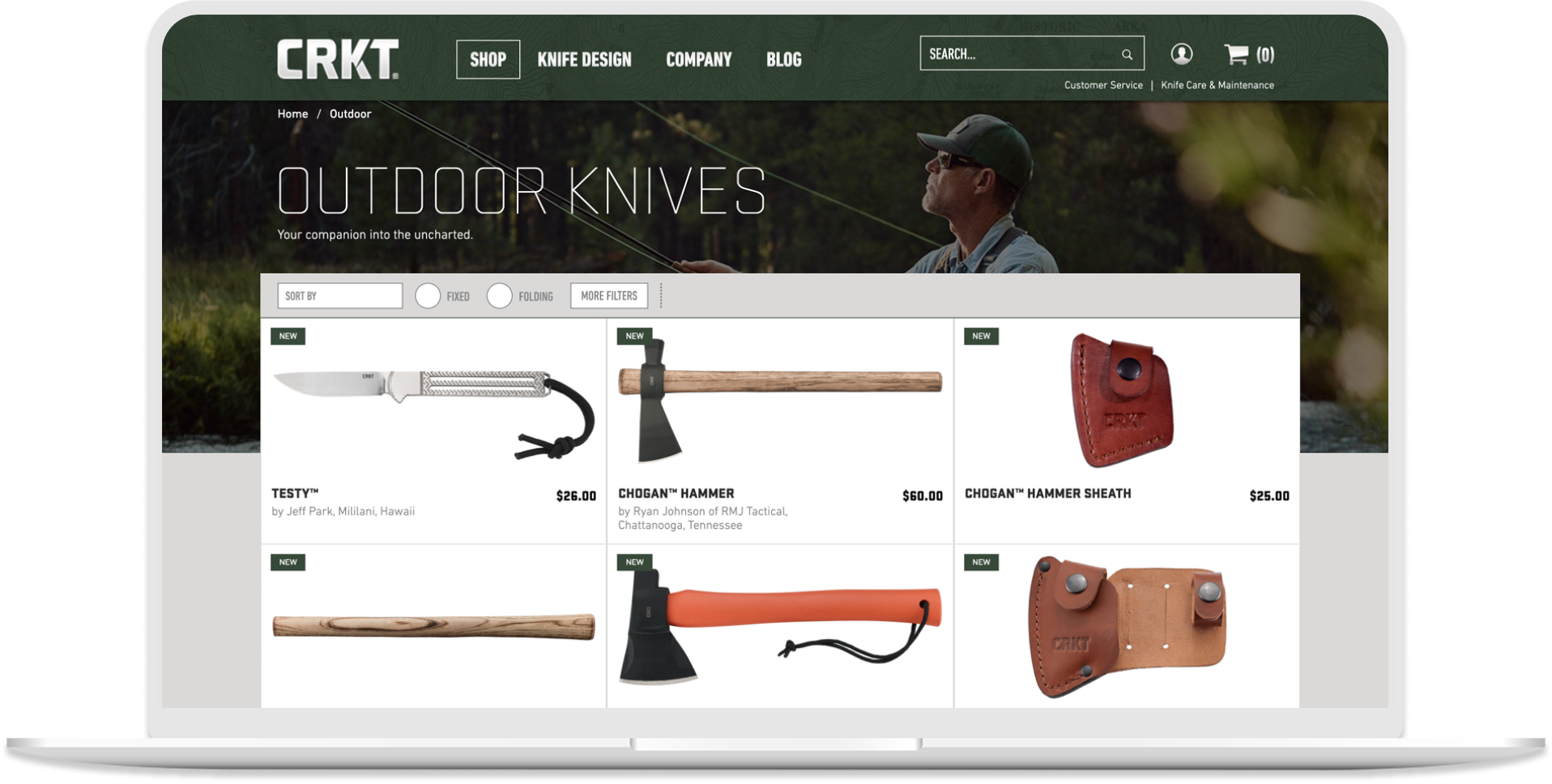 Through server optimization and a redesign of their transactional email campaigns, Forix was able to help CRKT increase their overall conversions while showcasing their unique products. Over the past few years, we have worked in tandem to create a better online shopping experience for their customers by providing faster page load times, improved email campaigns, and an optimized product management system. Through hard work and careful planning, Forix has helped CRKT provide an enhanced experience to their customer base and achieve measured growth in their market.